Personal Photo
Options
Custom Title
Aria doesn't have a custom title currently.
Personal Info
Location: No Information
Born: No Information
Website: No Information
Interests
No Information
Other Information
gif: No Information
age: No Information
grade: No Information
parent : No Information
sexual orientation: No Information
relationship status: No Information
alias: Aria
app link: No Information
shipper link: No Information
Statistics
Joined: 5-November 17
Status: (Offline)
Last Seen: Apr 13 2018, 08:19 PM
Local Time: Jun 24 2018, 12:49 AM
7 posts (0 per day)
( 0.19% of total forum posts )
Topics
Posts
Comments
Friends
Mar 30 2018, 08:52 PM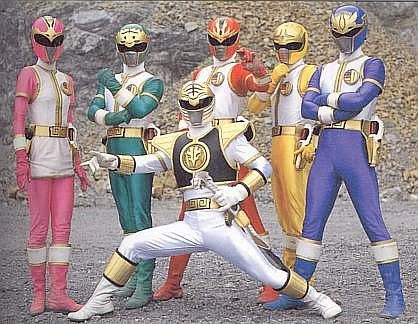 Darkness Rising
What if the Villains won. At darkness rising, Ransik didn't stop in 2001 to get away from time force. Instead, he went clear back to 1993 to keep the Mighty Morphin Power Rangers from getting their power Coins. As a result of this the villains took over and it would be years before any good rangers would exist. The year is 2018 and eight years ago Zordon summoned an 18-year-old boy to the command center giving him the powers of the white tiger and a set of five jewels, jewels that would bring about the dairangers before sending him away as Rita appeared to destroy him and the command center.
Now in the present day, the new white ranger with his team the dairangers lead a resistance where they now fight head to head with the green ranger and his team the mighty morphing rangers. Which side will come out victorious only time will tell.
Darkness rising is a super sentai/Power rangers au with no word count in which the villains have won and the new rangers are either a part of a resistance against the villains or a personal team for their villain which side you choose is up to you.
Feb 26 2018, 07:32 PM
[dohtml]<center><link href='http://fonts.googleapis.com/css?family=Raleway:900,800,700,600,500,400,300,200,100' rel='stylesheet' type='text/css'><link rel="stylesheet" type="text/css" href="http://itsabattlecry.b1.jcink.com/uploads/itsabattlecry/carriedaway.css"><style type="text/css">

.carriedh { background-color: #E94E77; border-bottom: 4px solid #e9c34e }
.carriedtw { padding-bottom: 35px; border-bottom: 1px solid #e9c34e;}
.carried2b::-webkit-scrollbar-thumb, .carriedpic4::-webkit-scrollbar-thumb { background-color: #b1e94e; }
.carried2b b, .carried2b i, .carried2b a, .carriedpic3 h1, .carriedpic3 b { color: #b1e94e }
.ctab1 { color: #e9c34e }
.ctab2 { color: #b1e94e }

</style>
<div class="carriedtabs">
<div class="carriedh"></div>
<div class="carriedtw">



<div class="carriedtab"><input type="radio" id="tab-1" name="tab-group-1" checked><label for="tab-1" style="margin-left: 0px;">

<div class="ctab1">Jay</div>

</label>

<div class="carriedhname">Jay</div>
<div class="carriedhinfo">16. VK. Jafar. Boo Boo Stewart.</div>

<div class="carriedc">
<table><tr><td><div class="carried2a"><div class="carried2b">

Born the son of Jafar Jay has always heard how he should be a prince and how he should be doing this and that. It's gotten to the point he can probably tell you every single one of his fathers lectures from heart. Despite his fathers distaste for Aladdin and Jasmin Jay has grown up much the same way aladdin did. He's a thiefe and a pretty good one at that. Usually he is pretty sneaky but honestly he has no problems stealing something from some one even when their looking he just doesn't care.
<p>
Friends- Well outside of Evie, Mal and Carlos jhe doesn't have very many at the moment. Though once one makes a freind out of jay he is as loyal ascan be though still not safe from him stealing from you
<p>
Enemies- He's got more than his fair share. He's probably stolen from everyone on the isle and usually ends up selling them back to them at rediculous prices that no one on the isle can afford just because his father told him to. So yea he's going to have lots of enemies and I'm not sure anyone from agraah is going to trust him much because of well his father. He's also probably flirted with most guys girlfreinds so they also probably won't like him much.
<p>
Lovers- He's a flirt but he's never gone further than that. He's not the dating type of guy mabe that will change maybe that won't but until than he's going to flirt with any and every girl he can.
<p>

</div></div></td><td width="4px"></td><td><div class="carriedpic"><div class="carriedpic2"><div class="carriedpic3">

<h1>relationships</h1>

<div class="carriedpic4">

<b>Mal:</b> <blockquote>Best Friend, Like a sister</blockquote><br>
<b>Evie:</b> <blockquote>Best Friend, Like a Sister</blockquote><br>
<b>Carlos Devil:</b> <blockquote>Best Friend, Like a brother</blockquote><br>
<b>Jafar</b> <blockquote>Father</blockquote><br>
<b>Nasira</b> <blockquote>Aunt</blockquote><br>
<b>Jade:</b> <blockquote>Cousin</blockquote><br>


</div></div></div><div class="carriedpic1" style="background-image: url(http://placehold.it/140x260);"></div></div></td></tr></table></div>
</div>

<div class="carriedtab"><input type="radio" id="tab-2" name="tab-group-1"><label for="tab-2" style="margin-left: 60px;">

<div class="ctab2">Shang</div>

</label>

<div class="carriedhname">Li Shang</div>
<div class="carriedhinfo">40. Hero. General Li. Han Geng.</div>

<div class="carriedc"><table><tr><td><div class="carried2a"><div class="carried2b">

Li Shang the son of the late general shang. Byt the time he met Mulan and them he was already a captain in charge of trining them for the upcoming war against the hun's That said shang almost sent mulan home when she seemed untrainable.She managed to prove herself but when she was found out to be a woman while shang spared her he told her to return hoe. He is forever glade she came to the capital instead of doing so after discovering trhe hun's plans. They married shortly after the war ended and they had to transport the princesses to marry their betrothed (he's very thankful to Mushu for how that ended.) is kids were probably the second best thing to happen to him. He's still very much a soldier but he also coaches tourney at Auradon at times as well.
<p>
Friends- FOr sure thtre's Yao, Ling, Chien Po and their wives. Mulan even to this day is his best frend and he would say as much if asked. once you get past the by the book general image you won't have a more loyal friend than shang.
<p>
Enemies- Shanyu isa sure fact here. Not only did the man kill his father but he caused so much pain and missary as well. though if not for Shanyu there is a good chance Shang never would have met Mulan so theres that anyone that would upset either of his children or his wife. Or anyone that just seems to be anything but nice most of the villains on the isle would fit under this catagory.
<p>
Lovers- He's happily married so this is closed to anyone else.
</div></div></td><td width="4px"></td><td><div class="carriedpic"><div class="carriedpic2"><div class="carriedpic3">

<h1>relationships</h1>

<div class="carriedpic4">

<b>General Li:</b> <blockquote>Father, Deceased</blockquote><br>
<b>Fa Zhou:</b> <blockquote>Father In Law</blockquote><br>
<b>Fa Li:</b> <blockquote>Mother In Law</blockquote><br>
<b>Li Mulan:</b> <blockquote>Wife</blockquote><br>
<b>Li Lonnie:</b> <blockquote>Daughter</blockquote><br>
<b>Li Shang JR.:</b> <blockquote>Son</blockquote><br>
<b>Yao:</b> <blockquote>Friend</blockquote><br>
<b>Ling:</b> <blockquote>Friend</blockquote><br>
<b>Chien Po:</b> <blockquote>Friend</blockquote><br>


</div></div></div><div class="carriedpic1" style="background-image: url(http://placehold.it/140x260);"></div></div></td></tr></table></div>
</div>

<div class="carriedtab"><input type="radio" id="tab-3" name="tab-group-1"><label for="tab-3" style="margin-left: 120px;">

<div class="ctab1">Fleurette</div>

</label>

<div class="carriedhname">Fleurette</div>
<div class="carriedhinfo">18. AK. Tiana and Naveen. Zendaya.</div>

<div class="carriedc"><table><tr><td><div class="carried2a"><div class="carried2b">

Fleur is the only child of tiana and Naveen. She takes after her mothers love of cooking something tiana was happy about. Her mother has taught her everything she knows about cooking and she even works part time in her mothers restraunt able to work the kitchen and serve tables. She's well rounded in the restraunt. She's a hard worker and even at school she doesn't do anything halfway.
<p>
Friends- She probably has quite a few of them. She loves being around people. however she will tell you whats up with no sugar coating when others start complaining about how hard their life is.
<p>
Enemies- By extension of her parents Dr. Facilier is top. She doesn't make enemies often it takes a lot and you must have done something super bad to find your way on that list. Even the VK's have not made it there she is withoulding judgement on them until she gets to know them.
<p>
Lovers- she's had a few oyfriends but while she loves that her parents have found their true love she isn't to interested in many boys right now so she's happ single that may change when she finds the one though.

</div></div></td><td width="4px"></td><td><div class="carriedpic"><div class="carriedpic2"><div class="carriedpic3">

<h1>relationships</h1>

<div class="carriedpic4">

<b>Tiana:</b> <blockquote>Mother</blockquote><br>
<b>Naveen:</b> <blockquote>Father</blockquote><br>


</div></div></div><div class="carriedpic1" style="background-image: url(http://placehold.it/140x260);"></div></div></td></tr></table></div>
</div>

<div class="carriedtab"><input type="radio" id="tab-4" name="tab-group-1"><label for="tab-4" style="margin-left: 180px;">

<div class="ctab2">Chrys</div>

</label>

<div class="carriedhname">Chrysanthos</div>
<div class="carriedhinfo">17. Ak. Aphrodite. Yoon Jeonghan.</div>

<div class="carriedc"><table><tr><td><div class="carried2a"><div class="carried2b">

Chrys is the youngest son of Aphrodite and the younger brother of cupid. He was raised learning to shoot his brothers bow as well as useing the powers he inherited from his mother. His first time going to school with kids his age was his first year as a student at Auradon Prep. He is currently the only guy ond the auradon prep cheer squad and he views all the girls as sisters.
<p>
Friends- It takes a lot to put up with him. He's vein just like his mother. The only difference is he doesn't do anything to anyone that calls themselves prettier he's just bound to rant to his friends for hours. So it takes a very special person to deal with him despite how sweet natured he can actually be.
<p>
Enemies- He's got a lot of them for whatever reason throw something my way and we'll see what we can work out.
<p>
Lovers- Gender really doesn't matter to him in all honesty. As long as there is real feeling there he is all in. The problem is he's never sure how much of it is real love for him and how much of it is him useing his powers without realizeing itso he finds it hard to open up his heart to much of anyone love wise.
</div></div></td><td width="4px"></td><td><div class="carriedpic"><div class="carriedpic2"><div class="carriedpic3">

<h1>relationships</h1>

<div class="carriedpic4">

<b>Aphrodite:</b> <blockquote>Mother</blockquote><br>
<b>Cupid:</b> <blockquote>Older Brother</blockquote><br>


</div></div></div><div class="carriedpic1" style="background-image: url(http://placehold.it/140x260);"></div></div></td></tr></table></div>
</div>

<div class="carriedtab"><input type="radio" id="tab-5" name="tab-group-1"><label for="tab-5" style="margin-left: 240px;">

<div class="ctab1">Ally</div>

</label>

<div class="carriedhname">Ally Kingsleigh</div>
<div class="carriedhinfo">15. AK. Alice Kingsleigh. Sabrina Carpenter.</div>

<div class="carriedc"><table><tr><td><div class="carried2a"><div class="carried2b">

Ally likes to think of herself as wonderland Chic. She's that strange girl that everyone just humors her. They blame it on the fact that she grew up around those of wonderland.She's a sweet girl that cares about her friends however despite being a bit strange. THough she's also the suspicious type and trusts the VK's about as far as she can throw them (and since she can't that should tell you how much she trusts them)
<p>
Friends- She's sweet and outgoing but she's also a bit peculiar which will turn a lot of people off of being her freind. That said the kids from wonderland are some of her closest friends because they understand her. That said she does have friends outside of the wonderlandian's.
<p>
Enemies- anyone that wants to hurt her family or friends (and the queen of hearts but yea that's because of her mother more likely) she also doesn't really trust any of the vk's yet either.
<p>
Lovers- She's never really thought about a relationship she's never even had a boyfriend so she's open.

</div></div></td><td width="4px"></td><td><div class="carriedpic"><div class="carriedpic2"><div class="carriedpic3">

<h1>relationships</h1>

<div class="carriedpic4">

<b>Alice:</b> <blockquote>Mother</blockquote><br>


</div></div></div><div class="carriedpic1" style="background-image: url(http://placehold.it/140x260);"></div></div></td></tr></table></div>
</div>

<div class="carriedtab"><input type="radio" id="tab-6" name="tab-group-1"><label for="tab-6" style="margin-left: 300px;">

<div class="ctab2">Clover</div>

</label>

<div class="carriedhname">Clover Mist</div>
<div class="carriedhinfo">16. AK. Silver Mist. Marius Yo.</div>

<div class="carriedc"><table><tr><td><div class="carried2a"><div class="carried2b">

character 6 shipper here! this is <b>bold</b>. this is <i>italic</i>.

</div></div></td><td width="4px"></td><td><div class="carriedpic"><div class="carriedpic2"><div class="carriedpic3">

<h1>relationships</h1>

<div class="carriedpic4">

<b>first last:</b> <blockquote>info here</blockquote><br>


</div></div></div><div class="carriedpic1" style="background-image: url(http://placehold.it/140x260);"></div></div></td></tr></table></div>
</div>

</div>
</div>
<div class="tyree"><a href="http://shine.b1.jcink.com/index.php?showuser=3019">© ree</a></div>
</center>[/dohtml]